Nationwide construction surfacing contractor
We are a highly experienced surfacing contractor, working closely with main contractors throughout the UK to deliver bespoke surfacing as part of their construction projects. Our team has the technical and operational expertise to manage surfacing projects from start to finish and ensure that our operations can be completed alongside other tradespeople effectively. No matter the size or location of your project, Toppesfield has the resources and industry knowledge to deliver exceptional results.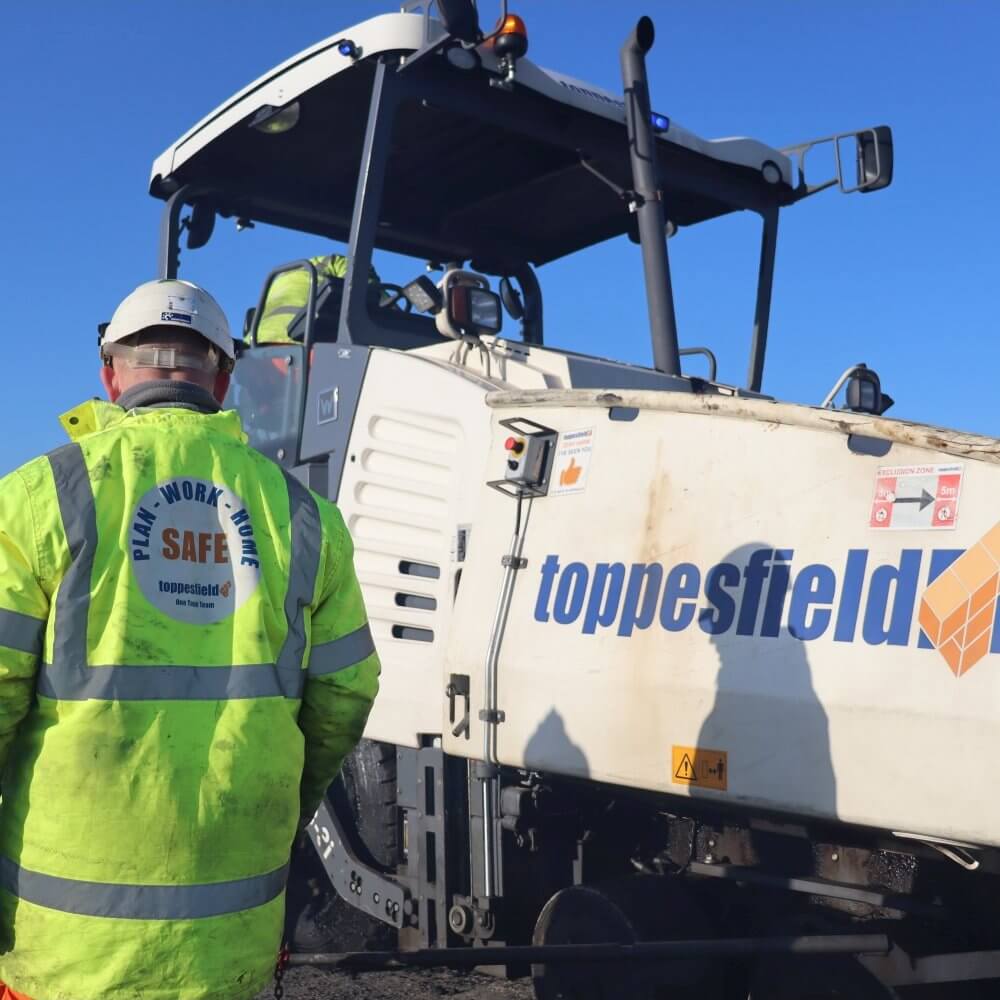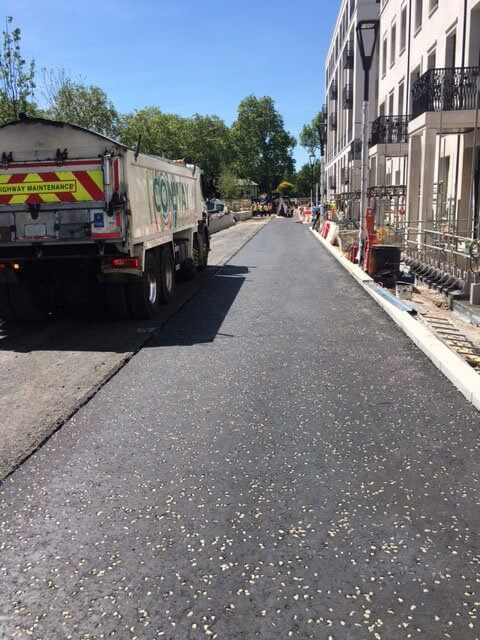 How can
Toppesfield assist the construction sector?
We have extensive experience within the construction sector and are familiar with the complex management chains that these projects can involve. Our collaborative approach prioritises communication and ensures that all our operations are completed efficiently, effectively, and without impacting others on site. By taking complete responsibility for our own projects, we build trustworthy partnerships with main contractors and free up their time to manage other elements of the project. Discuss your requirements with a member of our team if your construction surfacing project involves:
Housing estates
New developments
Access roads
Add value to your construction surfacing project
We aim to add value to all our projects, identifying opportunities to enhance the delivery of the programme or suggest a more effective material for your requirements. We understand that asphalt surfacing is often one of the last tasks undertaken on large housebuilding and construction projects and we provide the flexibility that is needed to adapt to changes in project timing and scope, without compromising on the quality of the finished surface. Toppesfield also has the resources to help main contractors fulfil their social value KPIs and leave a local legacy after a project has been completed.
Discuss your construction surfacing project
To see how we can meet your project's requirements in full, call 01473 829129 or email estimating@toppesfield.com to speak to a member of our team. We're always happy to meet potential customers.
Involve us in your
construction surfacing
projects
Early contractor involvement allows our customers to take full advantage of our industry expertise if there is a need to refine a project's requirements or receive professional advice. We're happy to collaborate with you on your construction surfacing project to develop an effective programme and ensure that any practical considerations have been accounted for. Call 01473 829129 or email estimating@toppesfield.com to discuss your requirements with a member of our team.
Benefit from our independence
We are able to source materials from the entire market, using our independence from suppliers to ensure that the right material is selected for each project. We've built relationships with suppliers throughout the UK so that our customers have greater choice, no matter the budget they have in mind or where their project is based. Our approach also allows us to source materials locally, ensuring reliable supply chains, reducing emissions, and minimising haul time to site.
Embrace alternative materials
Innovation is key to our approach, allowing us to take advantage of the latest technology and to deploy new techniques. We've funded the development of our own recycled product, ToppBase, to reduce costs for our customers and minimise environmental impact. ToppBase recycles road planings into a base course that shares the same performance as fresh asphalt. We source these planings internally and externally, allowing us to repurpose hazardous waste on behalf of our customers in the construction sector if required.
Consult our knowledge hub
We've built up extensive surfacing expertise within our team. Consult the articles in our knowledge hub to see how our approach informs our projects and allows us to maintain the highest standards.
Explore our construction case studies
Customers in the construction sector can consult our case studies to learn more about our approach and see why we're the right contractor for your project. The results we've delivered for previous customers speak for themselves.
Contact
Toppesfield
Call 01473 829129 or email estimating@toppesfield.com to discuss your construction surfacing project and requirements with a member of our team. We're always happy to meet potential customers and answer any questions about working with Toppesfield.