Sustainability is a key driver of our approach, forming one of our core values and underpinning our commitment to innovation within the UK surfacing industry. Embracing the latest technological developments ensures that we can reduce our environmental impact and deliver a more effective solution for our customers.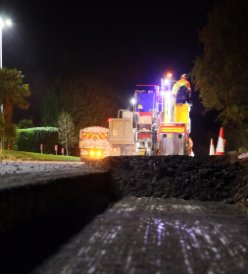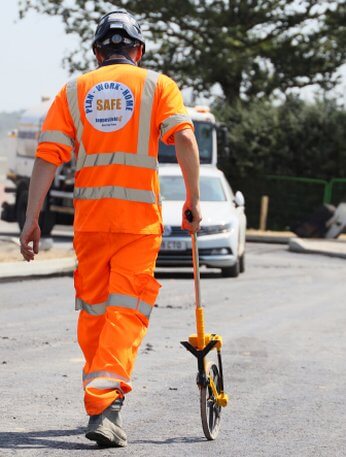 Self-delivery model
Our self-delivery model lets us take full advantage of our independence, using local materials and gangs to deliver the best possible result for each project. This adds value by providing cost and environmental benefits for our customers. Local sourcing minimises the travel and haulage time factored into a project, minimising cost, improving programme efficiency, and reducing the CO2 emissions needed to set up site operations. We're confident that prioritising sustainability in this manner will lead to increased customer satisfaction.
Thinking sustainably
Sustainability forms a key component of our Topp26 strategy, reflecting its importance for the surfacing industry as whole. By ensuring that sustainability is considered within all our projects and processes, we are continually finding ways to reduce our environmental impact. Whether we're removing paper from our site operations, maintaining plant to ensure optimum efficiency, or finding ways to streamline our processes, we are thinking sustainably at every opportunity.
Investing in plant efficiency
As the UK's largest independent surfacing contractor, we have the resources needed to make ongoing investments in plant. As well as allowing us to take advantage of recent technological developments, this replenishment strategy also lets us improve the efficiency of our plant on a regular basis. As a result, our strategy balances innovation with the continual reduction of emissions, ensuring we can deliver projects to the highest standard and avoid the need to pass fuel costs along to our customers.
Developing alternative materials
We funded the development of ToppBase, our own recycled product, which repurposes road planings into a fresh surface course, without compromising on performance. This innovative solution provides a new use for hazardous waste materials that would otherwise be sent to landfill, whilst also reducing carbon emissions by up to 90%. We source these planings from internal and external projects, allowing us to act responsibly and recycle waste from other contractors, local authorities, and customers. ToppBase is mixed at our Birmingham material plant and operational depot. The warm mix material allows for haulage over greater distances than conventional asphalt. Recognising the importance of reducing carbon, we have also invested in a transportable material plant so that the ToppBase product can be mixed in situ, eliminating the emissions produced by transporting materials to site.
Contact
Toppesfield
Call 01473 829129 or email estimating@toppesfield.com to learn more about our approach to the environment and discover how we can make a difference to your surfacing projects. We're always happy to answer any questions.