Nationwide healthcare surfacing contractor
We understand the needs of our customers in the healthcare sector, tailoring our surfacing solutions to minimise disruption to visitors and maintain access to critical facilities. Working throughout the UK, we carry out projects of all sizes with the same attention to detail, ensuring that we deliver exceptional results whether we're resurfacing the car park at a GP's practice or carrying out a complex project at a hospital.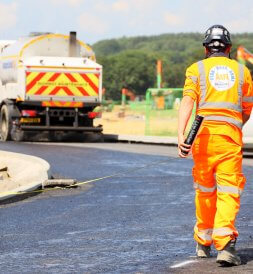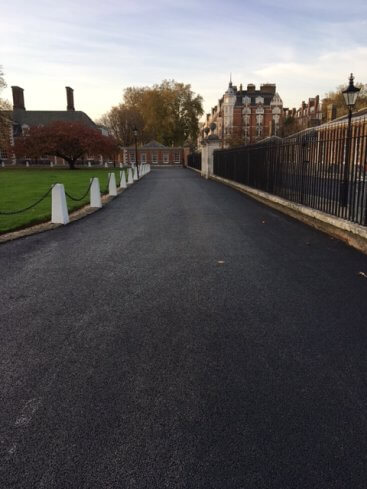 How can
Toppesfield assist the healthcare sector?
By working closely with our customers, we're able to understand and accommodate the specific requirements of the healthcare sector. Our team are highly experienced, with the technical and operational expertise needed to manage and deliver projects to the highest standard. Speak to a member of our team to determine how we can help if your surfacing project includes:
Hospitals
Care homes
Internal access roads
Pathways
Add value to your healthcare surfacing project
Our team is determined to add value to projects wherever they can. The extensive experience we've accrued within the surfacing industry allows us to identify opportunities where the efficiency of the programme can be improved or a different material can deliver superior results. In the healthcare sector, this can allow us to develop an approach that provides the necessary performance and value for money, whilst also meeting requirements such as preserving access to blue light areas throughout the project.
Discuss your healthcare surfacing project
To see how we can meet your project's requirements in full, call 01473 829129 or email estimating@toppesfield.com to speak to a member of our team. We're always happy to meet potential customers.
Involve us in your
healthcare surfacing
projects
Customers can benefit from our expertise at every stage of their project, including preparing a suitable brief for contractors. The combination of industry experience, technical knowledge, and operational excellence within our team can be used to refine a project's requirements or complete a competitive tender submission. We can provide insight into the practicality of a programme. Call 01473 829129 or email estimating@toppesfield.com to discuss your requirements with a member of our team.
Benefit from our independence
Our independence from suppliers ensures the greatest possible choice when selecting a material for your healthcare surfacing project. As a result, we can always find the right course of action, delivering the best results as well as excellent value. The relationships we've built with material suppliers throughout the UK also allow us to minimise haul time and avoid unnecessary emissions by sourcing locally. For projects in the healthcare sector where minimising disruption is essential, this approach also ensures that a reliable supply chain can be implemented.
Embrace alternative materials
Our commitment to innovating within the UK surfacing industry ensures that we're always incorporating the latest techniques and technological developments within our approach. For customers that are concerned with reducing costs and minimising environmental impact, our recycled product, ToppBase, matches the performance of fresh asphalt whilst eliminating up to 90% of carbon emissions. When deployed as a base course, it is an excellent option for car parks, internal access roads, and pathways.
Consult our knowledge hub
Our approach produces results that exceed expectations. Explore our knowledge hub to see how our surfacing expertise informs our projects within the healthcare sector.
Explore our healthcare case studies
Read our case studies to understand the contribution that Toppesfield can make to your surfacing project and see how our approach produces exceptional results.
Contact
Toppesfield
Call 01473 829129 or email estimating@toppesfield.com to discuss your healthcare surfacing project and requirements with a member of our team. We're always happy to meet potential customers and answer any questions about working with Toppesfield.