The new year brings new beginnings at Toppesfield with the arrival of six graduate trainees. The new recruits were welcomed as part of Toppesfield's graduate training programme, developed to attract future industry leaders into our growing and dynamic business.
The brainchild of Managing Director, Matthew Pryor, each graduate has embarked on a bespoke sixteen-month programme which will give them experience in every department across Toppesfield, from spending time on site with our surfacing gangs to assisting our sales team and quantity surveyors. Directors and heads of departments have been assigned with the important role of mentoring the new members of our team, supporting and assisting the graduates to maximise their experience.
The graduate scheme also marks the inauguration of a new technical department in Toppesfield. Building on the recent partnership with leading infrastructure company, FM Conway, our graduates will be spending time with their technical team. Their brief, to gain a basic understanding of the manufacturing and development of bituminous materials as well as the advances and opportunities available in recycling. Lead by the Senior Management Team, they will help support our own in-house technical department, capable of providing our clients and operational teams with even greater technical support and more innovative solutions.
With a wide range of degrees, our hope and aim is that our graduates become full time employees at the end of the programme in April 2019, while in the meantime, gain invaluable work experience and bring intellect and ideas from other disciplines to an industry historically populated with employees following in their father's footsteps.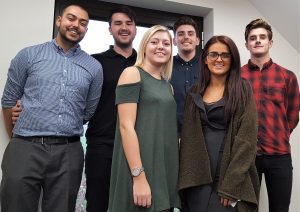 Of course, training is not something newly offered at Toppesfield. A third of our commercial team is made up of trainee quantity surveyors that we have put through university courses and provide with work-based training. We also run a trainee supervisor programme and offer courses to support our staff across the entire business. Such investment in our people and their careers helps us to play our part in resolving the national construction skills shortage and also reflects why almost thirty percent of our workforce are aged below thirty.
If you are interested in our graduate programme, or joining the Toppesfield team, please get in touch: careers@toppesfield.com or www.toppesfield.com.